Can you guess every SaaS business's favourite subscription billing software?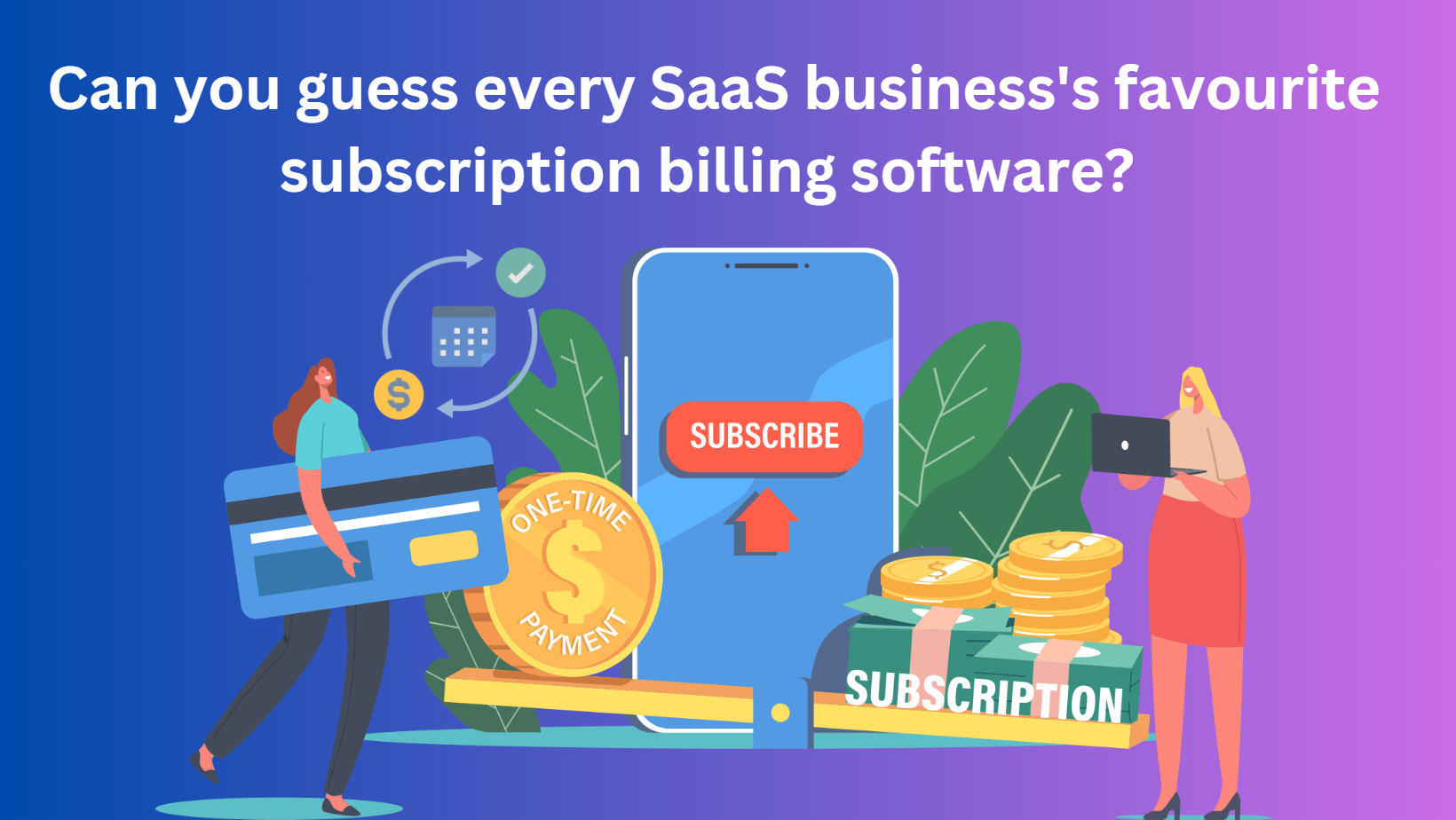 As a SaaS business owner, you should be very prompt and specific in making decisions when it comes to handling payments of your customers. One way to achieve this is by implementing automated subscription billing software.
Let me tell you why, as you know a SaaS business is very complex to handle, managing payments manually would end up your business in chaos. You may also lose track of your payments as well lack behind in customer support.
To avoid these things affecting your business , You need to implement automated subscription billing software which creates seamless revenue workflows, and provides the best experience for your customers by reducing the risk of manual errors.
In this blog, let me introduce you to one of the best subscription billing software which has quickly become a favourite among SaaS businesses. And it is because for its user-friendly interface, customizable features, and easy integration with other tools.
It stands out of all for its exceptional customer service and support while holding an award from a prestigious review platform G2 as " The Best Support " of all 4 seasons for 2023.
Interesting right?
So the wait is over, MYFUNDBOX might be the great choice for your company's billing needs,
let us find out why it is preferred over all by SaaS businesses.
Here are the top 5 features of MYFUNDBOX which declares it as one of the best subscription billing software.
Automated and flexible Billing.

Advanced Analytics and Reporting.

Exceptional Customer Support and Service.

Multiple payment gateways.

Dunning management
Automated and flexible Billing.
The key feature of MYFUNDBOX is its automated billing and payment processing system. This means that you can set up all of the recurring payments for your subscribers, and MYFUNDBOX will handle the rest.
You won't have to worry about manually processing payments or sending out invoices each month. This not only saves you time and effort but also ensures that your customers are always up-to-date on their payments.
With MYFUNDBOX, you can create subscription plans that are tailored to your business needs and the needs of your subscribers. You can offer different pricing tiers, add-ons, and discounts to incentivize subscribers to sign up and stay subscribed. This flexibility allows you to experiment with different pricing strategies and find the one that works best for your business.
Plus, MYFUNDBOX makes it easy to manage and update your subscription plans and pricing, so you can make changes on the fly as your business evolves.
Advanced Analytics and Reporting.
One of the key features that set MYFUNDBOX apart from other subscription software is its advanced analytics and reporting capabilities. With MYFUNDBOX, you can easily track and analyze key metrics like churn rate, customer lifetime value, and revenue growth.
This data can help you make informed decisions about your subscription business, such as which pricing plans to offer, which products to promote, and which marketing channels to focus on.
Plus, MYFUNDBOX offers customizable dashboards and reports with vibrant colours, so you can easily visualize and share your data with your team.
Exceptional Customer Support and Service.
At MYFUNDBOX, we pride ourselves on providing exceptional customer support and service. Our team is available 24/7 to answer any questions or concerns you may have about our subscription software.
We also offer personalized onboarding and training to ensure that you and your team are fully equipped to use MYFUNDBOX to its fullest potential.
Plus, our customer success managers are dedicated to helping you achieve your business goals and grow your revenue through your subscription business.
Multiple payment gateways.
MYFUNDBOX is integrated with a variety of payment gateways, which play a major role in the subscription world. This integration helps you to offer your customers several payment options through different payment processing decacorns like Stripe, GoCardless, and Mollie with more than 15 payment methods including bank transfer, debit cards, credit cards, SEPA, etc,.
This brings you the flexibility of choosing the best and the most affordable payment systems. You can save transaction costs by choosing payment gateways that offer you lower rates.
Moreover, with more than one payment gateway on your site, you can offer better choices to your customers which focuses on increasing your customer conversion rate. Having multiple payment gateways offers a ton of advantages that help make your business more profitable.
And of course this features stands as a bridge to make smooth payments by choosing another payment gateway if one gets difficult.
Dunning management
MYFUNDBOX's dunning management helps your SaaS business reduce customer churn by providing automated reminders with payment retries to your customers in case of payment failures.
Your customers will also be notified through emails giving them a chance to reattempt their payments so that you don't lose your loyal customer base and stick back to chase up your revenue.
The goal of dunning management is to recover unpaid balances, minimize customer churn, and preserve the overall financial health of the business.
This is just the tip of the iceberg, as we have many more features lined up which make us unique and preferable among others.
Check out what businesses say about MYFUNDBOX here
Explore yourself and find out why MYFUNDBOX is favourite of every SaaS businesses.
To know more click here.