Four reasons why you need a subscription billing platform rather than a payment gateway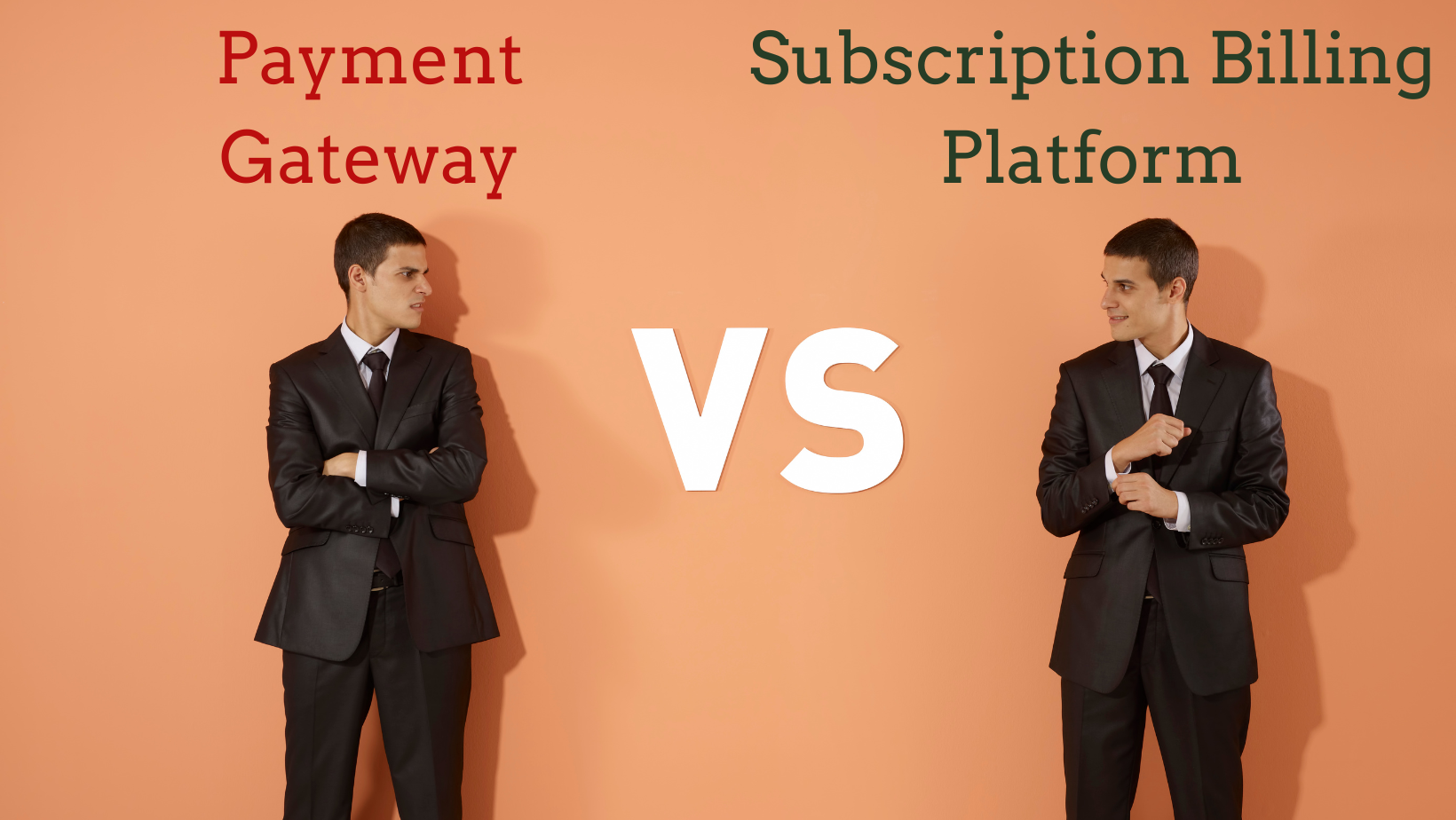 In order to optimise revenue and streamline processes, SaaS companies must consider every option available in the industry.
When it comes to a choice between a subscription billing platform and a payment gateway. Customer experience is of foremost importance for any business, and this only gets amplified for a SaaS or subscription business, where concerns like churn and customer retention take the foreground.
Your billing procedure is one area in which you can make considerable advancements to reach your goals. While payment gateways are commonly used, utilizing a subscription billing platform can offer many more benefits that can help your business thrive.
How does a payment gateway work?
The payment gateway is a front-end technology which is an essential part of online payment processes. It acts as a secure bridge between the customer and the merchant, ensuring that payment data is transmitted and processed securely and efficiently.
The bottom line, they excel in the task they are made for processing payments between the buyer and the seller, facilitating them.
Some payment gateways like Stripe, PayPal, and Braintree do offer recurring billing but they fail to completely fill the shoes of the subscription billing platforms.
The upper layer of subscription billing over payment gateways:
Payment gateways have also built out basic modules for handling subscription management to help small businesses out. While you may get started with the same product for both gateway and recurring billing, as a growing business, you will soon outgrow their modest billing capabilities.
Since the payment gateway market is much larger than the subscriptions market, it's genuinely hard for them to specialize in subscription billing.
What is the difficulty when choosing a single payment gateway?
As your business starts growing, handling recurring billing for the growing pool of customers becomes the primary concern. Not just that, as your business spreads, your customers' demands differ time and again.
They are,
Market Expansion
Flexible Subscription Management
Analytics and Reporting

Vulnerability with single payment gateway
1. Market Expansion: Billing the payments alone doesn't give an out-and-out solution to the booming SaaS businesses.
It requires satisfying customers by offering coupons & discounts, changing billing frequencies, allowing multiple payment methods etc are some of the areas the payment gateways fall short of.
Going global is not a far-fetched dream these days, but it's not easier to manage too. When going global, sticking to a single payment gateway doesn't give you much of a chance to offer another payment method not supported by your integrated gateway. Hence, scaling becomes difficult.
2. Flexible Subscription Management: With a subscription billing platform, it is flexible to upgrade or downgrade your customers' plans or even pause them for time being.
Adding multiple subscriptions to a single account, and efficiently managing customers' subscriptions by allowing the customers, to change or cancelling subscriptions is not a payment gateway's stronger forte.
Altering pricing for your old and new customers separately using subscription billing would make your life easier.
3. Analytics and Reporting: Subscription billing platforms provide businesses with an understanding of customer behaviour, their transactions and revenue trends.
These insights can be used to optimize pricing, reduce churn, and improve customer satisfaction, ultimately driving growth and profitability for the business. Payment gateways typically provide only reports based on transactions and do not offer the level of analytics and reporting required to strengthen your business with the metrics.
4. Vulnerability with single payment gateway: Last but not the least, the risk of sticking with a single payment gateway is that if and when there is downtime, relying on a single payment gateway can increase the danger of losing out customers due to preventing them from making payments.
Whereas, with a subscription billing platform integrated with multiple payment gateways, you can offer customers a wide range of payment choices. This enables businesses to provide a range of payment alternatives to their clients, including credit cards, debit cards, PayPal, Apple Pay, etc, so when one fails there is always an alternative available to switch.
When it comes to your subscription business, a payment gateway focuses on managing payments, and subscription billing software focuses on managing your subscriptions (who are also your customers).
In essence, the subscription billing solution makes your payment gateway smarter and smarter is better.
So try MYFUNDBOX Subscription Platform today and experience a difference in your business
REFERENCE: