Is your subscription billing platform's features worth your money?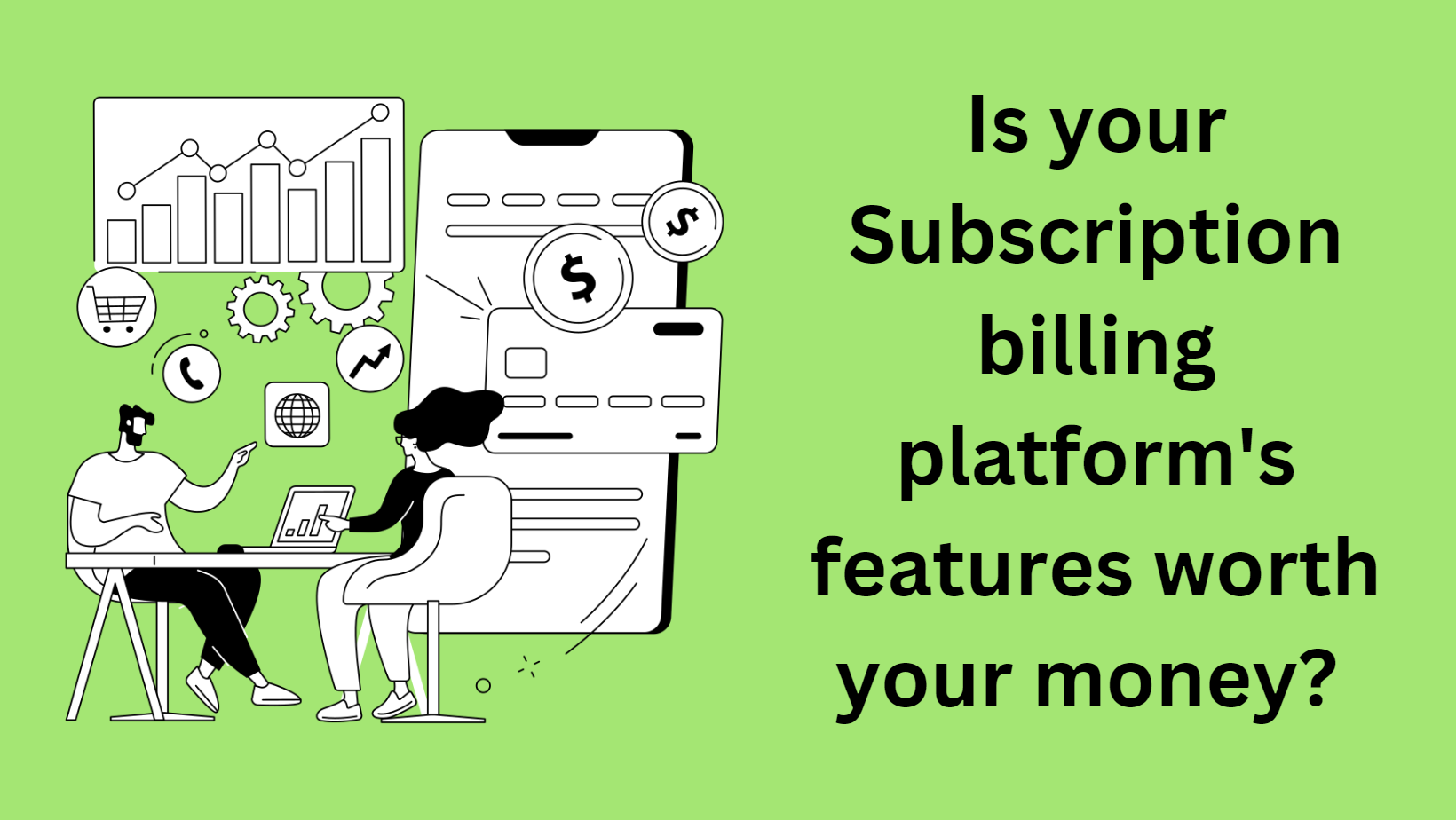 In today's subscription-based economy, businesses need to be hyper-focused on growth and efficiency to succeed.
As a business owner, you want to make sure that your subscription billing platform is delivering the features you need to grow your business. But with so many options available, it can be difficult to determine if your current platform is worth the investment.
In this article, we'll explore the key features you should look for in a subscription billing platform and help you decide if it's time to make a switch.
Before deciding if your subscription billing platform is worth the investment, it's important to evaluate your business needs. Look for a platform that offers scalability, flexibility, and customization options to ensure it can grow with your business.
When evaluating the worth of your subscription billing platform, it's important to consider the cost versus the benefits. While a cheaper platform may seem like a good option, it may not offer the necessary features to support your business growth.
On the other hand, a more expensive platform may have features that you don't need, leading to unnecessary expenses. Look for a platform that offers a balance between cost and benefits, and consider the long-term value it can bring to your business.
It's important to look for key features that will support your business growth. These may include customizable billing and payment options, automated invoicing and reminders, integration with other business tools, and detailed analytics and reporting.
Additionally, make sure the platform has robust security measures in place to protect your customers' sensitive information. This includes features like encryption, two-factor authentication, and regular security audits. Don't skimp on customer support and security – they are essential components of a successful subscription business.
When you are evaluating subscription billing software, it's crucial to look for essential features that can help your business maximize its revenue potential.
Here are some key features to consider:
Recurring Billing Automation: The software should offer automated recurring billing capabilities, allowing you to set up and manage subscription billing cycles without manual intervention. This feature ensures accurate and timely invoicing and payments.

Flexible Pricing Models: Look for a billing software that supports various pricing models, such as tiered pricing, usage-based pricing, or metered billing. This flexibility enables you to align your pricing strategy with your business model and cater to different customer segments.

Subscription Management: The software should provide robust subscription management capabilities, including the ability to handle upgrades, downgrades, and prorations. It should also allow for easy modification or cancellation of subscriptions as per customer requirements.

Dunning and Churn Management: An effective subscription billing software should include dunning management features, which automatically handle failed payment retries and send payment reminders to customers. This reduces churn and improves revenue recovery.

Multiple Payment Options: Ensure that the software supports a wide range of payment methods, including credit cards, digital wallets, and direct debit. The more payment options available, the easier it is for customers to make payments, leading to higher conversion rates.

Integration with Payment Gateways: Look for software that integrates with popular payment gateways to ensure secure and seamless payment processing. This allows you to leverage established payment infrastructure and provides a smooth checkout experience for customers.

Analytics and Reporting: Comprehensive analytics and reporting capabilities are essential for gaining insights into key subscription metrics, revenue trends, and customer behavior. Look for software that offers detailed reports, dashboards, and metrics to inform data-driven decision-making.

Customer Self-Service Portal: A customer portal allows subscribers to manage their accounts, update payment information, view invoices, and modify their subscriptions. This self-service functionality enhances the customer experience, reducing customer support overhead.
By selecting a subscription billing software with these essential features, you can streamline your revenue management, improve customer experience, and unlock the full potential of your subscription business. Additionally, consider your specific business requirements and industry nuances when evaluating the software to ensure it aligns with your unique needs.
And now it's time for you to decide on which subscription billing software to integrate with for greater revenue and growth.
Worry not, we have an all-rounder here!
MYFUNDBOX is a subscription billing platform to help businesses handle recurring billing and revenue management operations integrated with payment processing decacorns like Stripe, GoCardless, and Mollie.
In partnership with Google Cloud, MYFUNDBOX provides a single platform to enable customer-preferred payments globally.
Know what all you get with MYFUNDBOX
With MYFUNDBOX, you can automate the billing process for recurring subscriptions. This saves your time and effort by eliminating the need for manual invoicing and payment collection. It ensures accurate and timely billing, leading to improved cash flow
MYFUNDBOX's dunning management feature helps you minimize revenue loss from failed payments. It automatically sends payment reminders to customers and retries failed transactions, increasing the chances of successful payment collection.
You can easily integrate multiple currencies into your payment system without the need for any additional software or complicated coding. This makes it easy for you to expand your business globally.
Also, MYFUNDBOX provides comprehensive analytics and reporting capabilities, giving you valuable insights into key metrics such as revenue, churn rate, and customer lifetime value. These insights enable data-driven decision-making and help you optimize your subscription strategies.
It also allows you to customize billing cycles, pricing plans, and discounts to meet your specific business requirements. This flexibility ensures that you can adapt your billing strategy to align with your product offerings and pricing models.
MYFUNDBOX prioritizes security and compliance with industry standards, protecting sensitive customer information and ensuring secure payment processing. This provides peace of mind to both you and your customers.
And thus MYFUNDBOX is your best choice ever.
Schedule a demo call here